Welcome to MuuttoVelhot: Your Trusted Partner in Professional Moving Services
Are you planning to move and seeking for a reliable partner to ensure a seamless and stress-free experience? At MuuttoVelhot, we bring over thirty years of expertise and a proven record to make your moving journey efficient and secure. With an extensive experience in the moving industry, we understand the processes of each unique move. We offer a wide range of services, and if desired, we can handle everything related to your move from packing the first items to finishing touches in your new apartment, house, or company space. At MuuttoVelhot, we have the people, methods, and equipment to make that happen.
Moving Service in Helsinki, Espoo, Vantaa, and Sipoo
We operate primarily in the Helsinki, Espoo, Vantaa, and Sipoo areas. We offer residential moves and commercial moves, providing the best customized solution for each home, apartment, office, or other business space. During their countless hours of moving, our professionals have gathered skills to provide you with the best moving experience. In addition to loading and transporting your belongings on moving day, we value excellent customer service. You can ask us for tips, planning assistance, or anything moving-related during the relocation process.
Please fill out our online form here, or call us 09 701 3 701. You can also send an email to info@muuttovelhot.fi.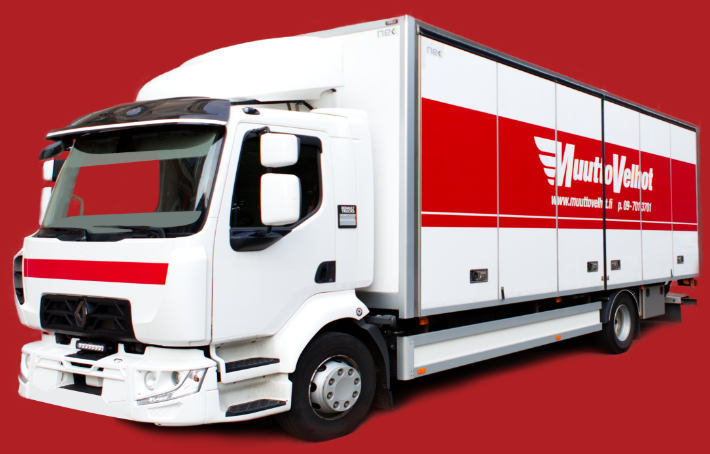 Our Comprehensive Services
Choose the services you need for your move!
Loading and Transport
Our professional team handles the heavy lifting for you. From loading your belongings into our vehicles to transporting them safely to your new location, we guarantee a smooth journey.
Moving Box Rental
Need sturdy and reliable moving boxes? Our rental service provides you with top-quality boxes that are designed to protect your belongings during the move. The boxes are delivered to you beforehand and they are extremely easy to pile and transport.
Packing Service and Materials
Our packing experts are skilled at securely wrapping and boxing your possessions. We use high-quality materials to safeguard your items during transit, minimizing the risk of damage. Additionally, we offer a range of packing materials so you can trust that your items are protected.
Specialty Item Moves
We understand that some items require extra care. Our specialists are trained to handle delicate and valuable possessions like pianos, electronics and artwork, ensuring their safe transportation.
Apartment/Space Cleaning
We offer cleaning services for both your old and new locations, ensuring a fresh start in your new home. The cleaning is charged on an hourly basis.
Recycling
We believe in sustainability and responsible practices. That's why we incorporate recycling into our moving services. If you have items that you no longer need or want to take with you to your new space, we can assist in responsibly recycling or donating them.
Accurate and Affordable Pricing
Our pricing is straightforward and tailored to your specific needs. With us, you'll never have to worry about hidden fees or surprise charges. What sets us apart is our flexible approach – you can purchase only the services you truly need, ensuring that you don't pay more than necessary.
Effortless Full-Service Moving Solutions
Say goodbye to the logistics, heavy lifting, and time-consuming packing. With Full-Service Moving, we do it all, leaving you with more time to focus on settling into your new home or space. Experience the convenience, efficiency, and peace of mind that come with our Full-Service Moving solution.
Seamless Relocations for Companies
We understand that a successful business move requires more than just transporting belongings. It demands precision, efficiency, and a strategic approach to minimize downtime and ensure a seamless transition. With our tailored corporate relocation services, we take care of every detail from packing to unpacking, allowing you to focus on your business while we handle the rest. Our team has experience in office relocations and other business moves ensuring a safe moving process and minimal disruption to your operations.
MuuttoVelhot – Moving Services since 1989
MuuttoVelhot is a company established in 1989, offering reliable and professional moving services in Helsinki, Espoo, Vantaa, Sipoo, and, if needed, elsewhere in Finland. Whether you're planning a residential move, an office relocation, or need assistance with specialty item transport, our service model allows you to customize your experience. Our dedicated team will work closely with you to create a moving plan that suits your needs and ensures a seamless transition to your new destination!
Please fill out our online form here, or call us 09 701 3 701. You can also send an email to info@muuttovelhot.fi.